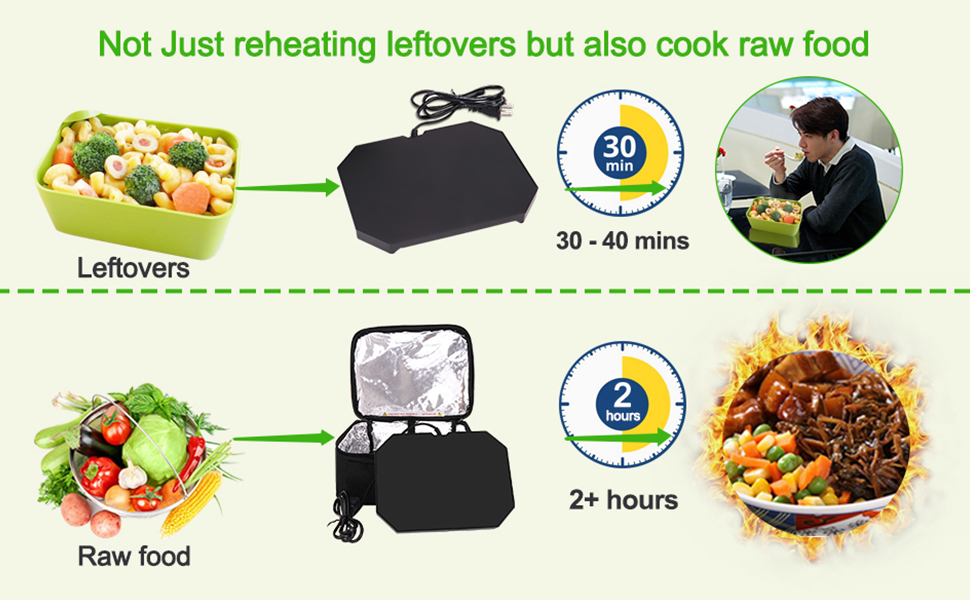 Who Needs This Mini Oven?
If you are tired of wasting your limited lunch time for standing in long line at the microwave at work;
If you are sick to eat nonnutritive cold or crappy fast food;
If you hate microwave will dry out food and make meat rubbery;
This personal portable oven is what you need!
Try This Magic Mini Oven Now!
Eat Healthy – Home cooked meals so you know what's in it !
Convenient – Plug it in and it slowly cooks while you work or play !
Super Efficient – Costs less than a penny per meal!
Save Money – Enjoy delicious hot meals without the high expense of eating out
Specification
Watt

: 45w / 0.5 amp

Working Voltage

: AC 110V

Bag Dimension

: 9.2"*7"*4" inch

Heating Plate Dimension

: 8.2"*6"*0.6" inch 

Length of Electrical Cord

: 48 inch/4 ft

Biggest Acceptable Food Container

 : 9″W x 6.75″L x 3″H

How to Use This Portable Oven?
1.Place food in tote – Choose your favorite fresh or prepared meal from the refrigerator or freezer.
2.Go about your day – Simply plug the Aotto portable oven into outlet and enjoy your daily activities knowing that your electric lunch warmer is safely warming/cooking your meal.
3.Eat and enjoy – You deserve to enjoy a delicious hot meal wherever your day takes you. The Aotto food warmer oven makes sure it's cooked to perfection and ready when you are.
How do you make sure that it won't overcook my food?
Here I'd like to explain how does this portable oven work:
1. Firstly you put your food into the tote and plug it into outlet to get it work.
2. The oven will slowly heat your food till temperature 239°F.
3. Then it will auto reduce the temperature down until 149°F.
4. And will keep warming your food during temperature 149°F-239°F.
It is a slow cooking oven, so it will heat your food evenly, and also will preserve the moisture and nutrition of your food.